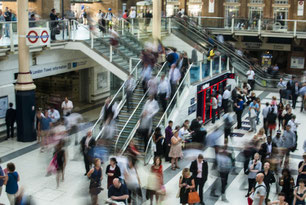 This day and age, it only takes about 2-3 weeks from the time you place an order with your promotional products expert to the time it's in your hands, all shiny and new with your logo emblazoned across the surface.  However, did you know that many products can be shipped in as little as 6 hours?  Let's explore when a rush order is a good idea... and when it isn't.
The Good
Rush orders can be a real skin-saver when you've forgotten to order a promo product for an event.  Hey - we're all human, and it happens. 
Many rush orders can be processed without a rush fee!
The Bad
Most of the time, rush orders don't come with a proof.  While that isn't usually an issue and the final product turns out great, it can be a small risk. 
Not all products can be rushed, so product selection becomes an issue if you're looking for something specific or creative.  It also means that sometimes you're purchasing virtually the same item for a higher price from a different supplier partner who offers rushes.  Sometimes you have to switch products all together, and you're no longer getting exactly what you wanted.
The Ugly
Expedited shipping costs MONEY.  A box of tote bags that normally costs $30 to ship via ground might suddenly cost $250 to overnight. Think about how many more bags you could have gotten for that extra $220!! 
If something goes wrong, like the product is out of stock or your logo doesn't look quite right on the product, there is sometimes no time to address the issue.  That leaves us with one of two possibilities.  Either 1) the product ships looking less than perfect, or 2) the product doesn't ship at all. 
Do what's best for your company, and use rush orders like anything else - as a tool!  Let BluPlume manage your calendar of events so that you never have to place another rush order again.